When it comes to knee replacement surgery, you generally have two different options: partial (less invasive) or total knee replacement. From incision size to recovery times, in this article, we'll compare the differences between the two and discuss each of their qualification criteria.
To start, total knee replacement is the catch-all procedure performed when the surfaces of your knee joint (tibia and femur) are, for the most part, beyond repair. That is, after years of arthritis, the cartilage and bone are so inflamed and largely ineffective, that the ends of the entire top of the shin bone and bottom of the thigh bone need a completely new surface. During the surgery, all the cartilage gets removed and the ends are shaved down and prepped to receive the new prosthetic: a mix of metal of plastic that'll serve as your surrogate knee. As with any fairly invasive procedure, it carries a longer recovery time and the potential for other complications. So, for some patients, a partial procedure (aka unicompartmental knee replacement) can make a bit more sense. But what exactly makes you a good candidate for partial replacement and what are its pros and cons? Read on for more…
Criteria for Partial Knee Replacement
As with any surgery, an informed (and hopefully correct) decision hinges on the expertise of the physician, a myriad of high resolution scans and, often most importantly, your goals and expectations. Here's a general checklist most doctors use during screening: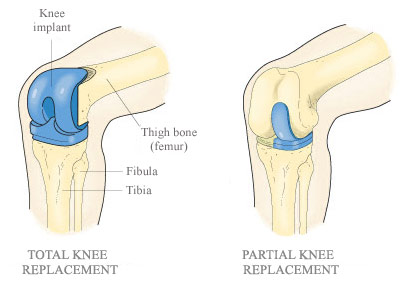 1) Localized area of knee damage – if the arthritis is contained to a certain area of the knee, chances are you'll still qualify for partial surgery. If it's more spread out and/or fragmented, that'll likely rule you out right away.
2) Sedentary lifestyle – if you're not into sports or don't exercise all that much, you're actually a better candidate for partial replacement. Less wear and tear means a higher probability that the rest of your untouched knee (partial cartilage, ligaments, tendons, etc) will last that much longer.
3) Functional Ligaments – since the success of partial knee replacement relies on the structures around the new implant, you'll almost certainly need a fully intact ACL (anterior cruciate ligament) in order to qualify.
Note this is just a partial list and, of course, each case and injury type is unique so be sure to discuss ALL the criteria with your doctor before proceeding. If you do end up qualifying, here are its upsides:
Advantages of Partial Replacements
Right at the top of the list is a smaller incision. Since this method removes less bone tissue and cartilage AND it's contained to one area, your surgeon will only need about half the incision area (~4 inches) compared to total replacement. Less trauma – both internally and externally – equates to a much faster recovery.
Speaking of recovery, that tends to be slashed in half as well (from my experience). Total knee replacement usually requires you stay in the hospital about 5 days and therapy takes another 4-6 weeks before you start feeling stable and relatively pain-free. With partial replacement, most patients are discharged 1-2 days after surgery, some even the same day. After about 2-3 weeks of therapy, most patients have healed up quite well and can resume most of their daily activities.
Finally, with less cutting and trauma to the actual knee, there are much fewer complications associated with partial. In general, there's a much smaller risk of infection and bleeding is kept to a minimum.
Closing Thoughts
For the most part, the physical state of your knee will largely determine whether partial knee replacement is even an option for you (if there's a gray area, don't feel bad about getting a second opinion). However, if you are in the fortunate position of being able to decide between partial and total surgery, take plenty of time to weigh all your options. For most, saving a few weeks in recovery with partial isn't really worth it if you end up having to get total knee replacement soon thereafter. Whichever you choose, we wish you a full and speedy recovery!