Just as in any other industry, the medical (and surgical) field is constantly evolving their procedures, techniques and technology. Specifically in orthopedics and knee replacement, leading manufacturers tinker with the shape, material and overall design of their knee implants…with the hopes of gaining an edge. As it stands, there's really no undisputed implant leader, so the decision essentially comes down to a combination of your needs and your doctor's experience and preference. So that you have a solid frame of reference, let's go over a few of the finer details…
The Basic Anatomy of a Knee Implant
The image to your right breaks down the 3 basic parts (components) of a total knee replacement implant:
Femoral Component – the metallic piece that attaches to the end of your femur (thigh bone).
Plastic, Articulating layer – "articulate" means to bend and since it needs to give, all knee implants are made of a plastic composite intended to mimic cartilage and miniscus.
Tibial Component – the plastic layer needs a solid support that that's exactly what the tibial piece does. It permanently binds the top of your shin bone (tibia) to the articulating layer.
How do Implants Differ?
Materials – Metal
There are a variety of different metal alloys used but a few of the more popular include: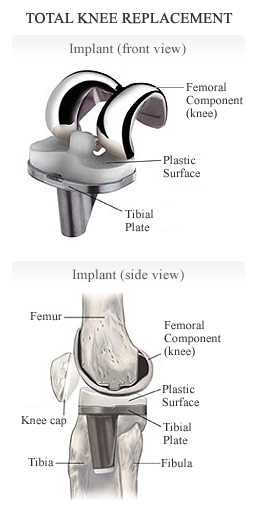 Titanium and its alloys – because titanium is so inert (it doesn't react with the human body) and robust, its been the preferred material of implants for years. The most popular titanium alloy in use is Ti6Al4V.
Cobalt-chromium – just as widely used as titanium, cobalt-chromium is extremely inert, bio-compatible, and durable…ideal properties for a surrogate knee joint. The only potential downside here is the purported release of tiny metal ions due to friction – when you move, walk, etc. While the fragments are generally harmless (and may never occur), folks with sensitivity to nickel or other metals have been known to develop a reaction.
Tantalum – the key component of a new bone/metal mix called Trabecular Metal, Tantalum has excellent biological-friendly properties. Trabecular Metal is manufactured with small mesh holes that foster bone regrowth, creating a better bridge between metal and bone.
Shapes – Rotating vs Regular
As you know, the knee primarily moves in a back and forth motion (much like a hinge on a door). There isn't much side-by-side movement, but it does happen, especially when you pivot and change direction. For that reason, a few implant manufacturers have begun to develop product lines that rotate inwards and out, as well as hinge. There isn't a big case study available to substantiate their claims of markedly better movement and range of motion, but the occasional feedback from early adopters seems to be positive. Of course, the real test would be someone with a traditional implant on one knee and a rotational model on the other. There just aren't a lot of folks in that camp, so it really boils down to your doctor and their experience with rotating implants. If they've had good luck with them in the past and you're fairly active, rotating implants may be an option for you.
Gender-Specific
For years, implants came in the standardized sizes for both men and women (size Y for men = size X for women). There has been a recent trend to create specific models for each sex, however. Essentially, manufacturers slightly adjust the relative size and angle of each part to accommodate for the anatomical differences between sexes (different hip angles, size of the tibia, etc). Just as with the rotational implants, there really isn't enough data to give the upper hand (or knee!) to gender-specific implants. It literally takes decades to begin to fully understand the short and long-term success rates of new implants.
Final Thoughts
With all the options out there (and, trust me, this is just the tip of the iceberg), it's tough to objectively compare them all, even for doctors. There's no doubt knee implant manufacturers will do anything and everything to stand apart from the crowd, so a good number of the newer, "gotta have" models are probably more marketing hype than anything, so tread carefully. If you're unsure, carefully discuss all the options with your physician – in a lot of cases, it's simply the best and safest route to go with a tried and true model that's been around for decades.